STEEL & ALUMINUM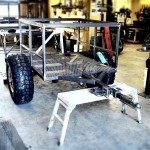 HARRIS INDUSTRIAL GASES has been selling steel and trailer/hitch parts for over eight decades.  Our two steel warehouses—Citrus Heights and Auburn—boast the largest inventory of steel between Reno and Sacramento. From angle to channel, and pipe to expanded metal, we can fill your needs.  And, if we don't carry it, we can easily order it for you!
Come in and browse our catalogs to get ideas for your fencing, railing, and gate needs. We cut pieces to your precise measurements using cold saws, plasma cutters, or a pneumatic sheer for perfect straight or angled cuts.
Our Auburn fabrication and repair shop can punch holes in plate, angle bending, and rolling square tube, channel, flat bar and angle into arches and much more.  Stop in to see our full-service steel shop, we'd love to meet you.